What is BIM?
BIM is a process for creating and managing information on a construction project throughout its whole life cycle. As part of this process, a coordinated digital description of every aspect of the built asset is developed, using a set of appropriate technology. It is likely that this digital description includes a combination of information-rich 3D models and associated structured data such as product, execution and handover information.
Internationally, the BIM process and associated data structures are best defined in the ISO 19650 and 12006 series of standards.
Let's ask the experts
BIM can mean different things to different people. Nathan Hildebrandt, host of the NBS Australia sponsored podcast The Digital Transition, calls it 'Better Information Management'. In every episode Nathan asks his guests, 'what does BIM mean to you?' Let's take a look at how industry experts answer that question.

Paul Shillcock, co-author of ISO 19650-2, says "BIM is the collaborative production of information... It's about individuals and teams working together, enabled by the amazing technology and innovation that we're seeing within the industry. Its very much about people and people working together collaboratively to produce that information."

Alice Leung, Investment Associate at Brick & Mortar Ventures, says BIM is more about information and the linking of that information. "To break it down, the information and the data is what we need. Whether its 3D, 4D, 5D BIM, whatever it is, as long as you can link all that information in a place that people can access and understand, that would be a winning rule for me."

Kate Williams, Chief Business Officer at FrontierSI, says BIM can be both a digital model of a piece of infrastructure, but also the process to create and design that model. "Hopefully the BIM of a piece of infrastructure is something that can be used to help operate the asset over time but is also information that can be used and accessed in wider systems. I'm a digital twin advocate, so I see BIM as a potential source of information for broader decision making outside the owner of that asset. It's an opportunity to collaborate in the digital world, like the building is part of the system in the real world."
NBS Innovation Director Stephen Hamil keeps it simple. "It's a mix of two things. It's about getting the process right. Getting your information structures right. This allows for collaboration. If you throw the digital bit in... you make everything fly. Process information, collaborate together, get it right digitally... that's BIM."
How can BIM help you?
In the early stages of a BIM project, a collaborative team is assembled. It agrees the process and information structures to ensure that the design information developed is coordinated, and will be of maximum benefit to those involved in the construction and operation stages. Involvement of those that will be involved at a later stage of the project (such as manufacturers or the client's FM team) can greatly help with this initiation.
As the project enters the construction stage, the information developed can be used to plan and build more efficiently. Where revisions to the design are required, any changes can follow the agreed process in a transparent and recorded way.
Finally, as the construction project is completed and the in-use stage commences, the information that has been modelled can be used to operate the built asset. Real-time information about the asset's performance is modelled so that certain aspects of the built asset have a 'digital twin' equivalent.
What are the BIM standards?
There are a number of standards that define BIM information structures and processes internationally.
Information structures:
ISO 16739-1:2018 – 'Industry Foundation Classes (IFC) for data sharing in the construction and facility management industries — Part 1: Data schema'.
ISO 12006-2:2015 – 'Building construction - Organization of information about construction works - Part 2: Framework for classification'. The UK National Foreword of this standard lists Uniclass 2015 as the classification system for UK BIM.
ISO 23386:2020 – 'Building information modelling and other digital processes used in construction — Methodology to describe, author and maintain properties in interconnected data dictionaries'. At NBS, we follow this framework when modelling information structures with manufacturers in the NBS Source platform.
What is a BIM object?
A BIM object is a combination of many things.
It is detailed information that defines the product, and geometry that represents the product's physical characteristics. The visualization data that gives the object a recognizable appearance and behavioural data, such as detection zones, enables the object to be positioned or to behave in exactly the same way as the product itself. There are two primary types of object: component and layered. The component objects are building products that have fixed geometrical shapes (such as windows, doors, boilers, etc.). Layered objects are building products that do not have a fixed shape or size (such as carpets, roofing, walls and ceilings).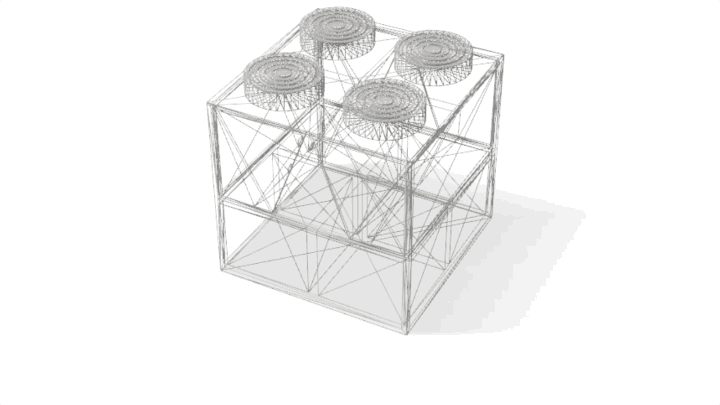 At NBS, we provide an extensive set of resources to help the industry create standardized digital objects. The NBS BIM Object Standard provides guidance on object creation, how much information to put inside an object and what information to link to on the cloud. A number of vendor-specific templates, standardized parameter sets and plug-in tools are also available:
Free-to-use NBS BIM tools and resources to help author BIM objects.
How do specifications fit into the BIM process?
Specifications are a huge part of the BIM process. Each discipline involved in designing the built asset needs to specify their requirements. Throughout the project timeline, this specification information should develop from a description of the required performance outcome through to a prescriptive solution of systems and products that meet this performance. Finally, these specifications should be updated throughout the construction phase so that the client may receive a set of record specifications at handover.
This information should be authored to a standard structure and coordinated with the information in any 3D models, and in related databases.
At NBS, our Chorus platform helps organizations to create specifications to the Uniclass 2015 data structure, and to publish this information following the process defined in the ISO 19650 series of standards.
Is BIM used in Australia?
To learn about BIM in the Australian context, read the report we published in partnership with the Australian Institute of Architects. Download BIM and Beyond - Design Technology in Architecture.
What is the future of BIM?
The leading edge of the industry will continue to innovate. Our annual NBS digital surveys show that cloud computing, the Internet of Things, Blockchain, artificial intelligence and modern methods of construction are all on the rise.
However, for the majority of the industry, the future is about making the existing information structures and processes 'business as usual'. These are mainly training, education and cultural challenges. But technology can also help. As platforms mature, the manual tasks of structuring data, classifying data and naming files will be automated. This will enforce the structure and the process, and help accelerate BIM.
In the future, there will be a golden thread of information that is collaboratively developed in parallel to the design and construction of built assets. This will be a record of what has been built, developing a record of how the asset is performing. Across client estate – or even national – boundaries, this will in time be the 'big data' that helps decision makers continuously improve to build a safer and more sustainable built environment.